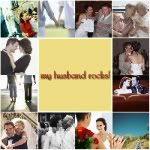 Last week I left a comment saying that I was going to put my hubby's funny faces on here, but when I wrote my post, I decided to talk about how much he has built and done to our home.
Soooooo, this week, I am going to say...My Husband Rocks because he makes me laugh. I don't think there is a day that goes by that my husband doesn't make me laugh. I'm not talking about little giggles here and there, I mean, laugh hard. The man is funny.
A little background. When I began dating my husband, there were a few people at church who asked my best friend, Kim (
http://homesteadersheart.blogspot.com/
) if she thought he was really "right" for me. They were concerned, because while he is definitely a godly man, he is so SERIOUS (he's a cop). I am a typically light and happy, loves to smile kind of gal, so this confused people. Well, Kim had already had the opportunity to "get to know him" and she assured everyone that he was perfect for me. :)
Let me just add, that when he needs to be, he is a completely serious man, and a wonderful strong leader of our home, as well as being a hunk-o-man! :)
"A cheerful heart is good medicine..."
Proverbs 17:22a
Have a blessed day!