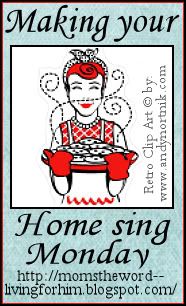 Today I'm joining my friend Nan for here mem Making Your Home Sing Monday! She says..."Every day you are doing something to make your house into a home for yourself and your family (if you have one). My point with each Monday post is, what are you doing or going to do today to make your home sing?
It can be an attitude or an action. Motivation, our attitude, baking, encouraging our husband or children (if we have either one), organization, cleaning, saving money....the opportunities are endless."
I loved Nan's post today about lists...I am a list maker too! And right now, I have a big list...I have SEVERAL projects, crafts and homemade Christmas gifts that need to get done. I've begun several at one time (bad idea). That's when I get overload syndrome..I just want a piece of chocolate and a good movie, let it all sit and wait....wait for WHAT? I need to get on the ball and do a chip away a little at a time until they are completed...and that SHOULD be before Christmas!
What have a I started? Well, I wanted to "re-do" the guest bedroom,....so we painted the walls, got new carpet and did some re-arranging...I decided the little vanity desk and mirror needed to be painted a different color to match the new color scheme...vanity awaits my paint and brush...
While I was out looking for "doo-dads" to hang on the wall of the new spare bedroom, I came across this mirror that would look "perfect" in the hall bath...it just needed some paint and antiqing, etc...this created a monster of an overhaul in the hall bath which I am currently right in the middle of....wall needs spackling and painting...
I've been mulling over for sometime to move some shelves from the living room to the spare bedroom and change up the look in the living room...needed a chair for the "spot" I created...got the chair cheap (woo-hoo)....now I need to recover it....
Began a quilt (a LONG time ago) for my Mom, NEED to finish it in time to mail for Christmas....
Started about 7 other Christmas gift projects that NEEEEEEED finishing....
I felt so guilty when I read Nan's post about waiting until the last minute and people who like to work under pressure - that's not me! Why did I wait???? No list.
So, today, I'm going to go through these thigns that need finishing, prioritize them on a list and begin working through them until they are done...hopefully this will streamline my work so I can get things done with no stress, because they are all fun projects and stress just ain't fun!
On top of that, it's December!!!!!! Yee-haw!!!!! And my home will be singing with the first signs of Christmas decorations! I love to decorate for Christmas, it's my favorite! I'll try to put that on my list.. :) At the top!
Have a beautiful Monday!
For more "Making your Home Sing Monday" posts, visit Nan at Moms The Word.