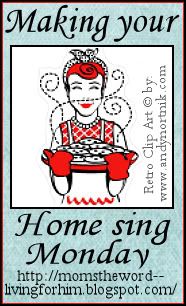 This is my first time joining
Moms The Word
for her Monday Meme. It's a time to share what we are doing to bring a little somethin' extra special to our homes. If you'd like to read more posts or link one up yourself, pop on over.
Here are 2 things I did to make my home sing...
Well, I felt it,...I finally felt it! I felt Fall, I know, I know, there's still 1 more day until "It" appears, but I am just certain I felt it. It first hit me while I was in JoAnn Fabrics, yup, I was walking through the floral department and these deep reds, oranges and yellows called out to me..."Fall is here, take us home to your table!". :) So, I did (it was a buy one/get one sale!)...here is the centerpiece I've put together for my "Fall Table"...
I had to take a close up of the little photo on there...that's my hubby and our son about 11 years ago! Cute! :)
Another reason I know Fall has arrived is that I was working out in my vegetable garden yesterday evening...AND I could breathe!!! I was out there a good 3 hours, hauling and spreading bags of compost and mulch, digging up weeds and turning old bean plants, loosening up packed soil, and I could breathe...no humidity!!!! I was happy to get the garden ready for planting... :)
How did you make your Home Sing today?
"Let the Word of Christ richly dwell within you, with all wisdom teaching and admonishing one another with psalms and hymns and spiritual songs, singing with thankfulness in your hearts to God." Colossians 3:16
Have a beautiful praise filled day!