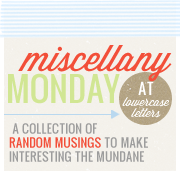 I was just going to post a few random things, then I happened upon this meme, so figured, hey...meet someone new "hi Carissa, from lowercase letters", and link up! :) If you want to join, pop over HERE.
Yesterday I was blessed to be able to host my "nephew" Jeffrey's 8th birthday party. We always have fun with our best buds, the Wilson Family...
If you've been reading my blog for a while, you MIGHT remember this post about
Dance
. Well, here we are in June, and it's recital time...yup, that's right folks "Mom" is in the recital, LOLOL...next Saturday I get to stand in front of millions of parents and wear these!
(or a "slightly altered" version that I doctored up on my sewing machine, but that's a whole 'nuther post all together)...Oh wow...I AM frightened...
I made some super yummy (and mighty healthy)
Oatmeal Molasses Berry

Muffins
today and MUST share the recipe with you...go
HERE
. :)
I just love my husband more than I can say....
We went out on the boat yesterday...the water was gorgeous, and the sun was HOT...great combo!
I need to refinish my dining room table, and I'm thinking of doing a shabby chic white grey thing to it....thoughts???? Suggestions???? HELP!!!
So,...how was your week/weekend? :)