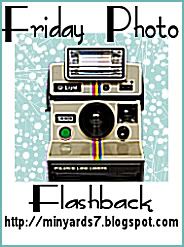 Since Father's Day is right around the corner, I decided to dedicate my Friday Flashback photos to my Dad.
My Dad with his Dad...Laredo, TX...probably early 1939...
High School Graduation...Laredo, TX...
U.S. Marine Corp. (served 3 years)...
U.S. Air Force (served 22 years)...

Dad with me (the baby of 6)...1968...
Dad and all his kiddos...1971 or 72...
Dad and me at a park in Oxford, England...my Mom loved photography and had her own darkroom in the garage closet...she took and developed this photo herself...

Dad and me at our apartment in El Paso, TX...probably Christmas of 1981...
September 4th, 1999 - (yup, still not digital)...

Ok, this is where I cheat a bit...these three photos are of the "digital age"...but I couldn't leave you hangin' on how my Dad looks now! :)
Dad and all his kiddos - Father's Day 2007...
Dad is a die-hard biker man (and retired school teacher)... :)

Dad - 2009

For more Friday Flashbacks from the "non-digital" age, visit Alicia at More_Than_Words.
Have a beautiful day and go shoot some pictures!