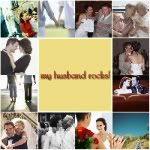 My husband rocks for so many reasons that I find it hard to just name one, but I will pick one out of my head. :) My sweet, precious husband rocks because he is a "builder of things", all sorts of things. He has worked so many hard years to make our home "homier" by building with his own sweat, tears and hunky muscles (hee hee). Some of the things that come to mind are: a kitchen remodel, which included raising the ceiling, adding 3 linear feet of space, building new cabinet doors, floors and countertop; Building a workshop/shed, building a gazebo just for me!, a fort and swing set for our son, a 30 foot long screen porch, a wall unit for our tv and movies, a wall unit for our sons bedroom for school books/desk, etc.. (when we were homeschooling), shelves and workbenches for his garage, a potting bench for me, a swing for under the fort,...I'm sure I'm leaving something out, but you get the picture. :) He is a builder of things, and a builder of my heart and home! :)


Gazebo and Swing...

Kitchen rebuild with Arch and shelves...
Shed...
Back Porch...
Wall Unit for Living Room...
I LOVE HIM!